The Liberty Library Management System
Liberty is a powerful library management system solution that will continue to grow and change with the needs of your organization
The Liberty library management system enables your vital information resources to be discovered and delivered anywhere, anytime through computers, tablets and cellphones. Liberty combines powerful functionality with ease of use.
Powerful Staff Interface
The Liberty library management system has a full feature management interface, allowing you to easily:
Record and track every type of material – physical, virtual or electronic
View your information alerts and reminders at a glance
Customize the information you store in your catalog, with up to seven customized authority files or taxonomies
Finely tune access to resources according to user profiles and privileges according to your business policies
Send Email and text notices to your users
Using the standard z39.50 protocol, import MARC21 records from libraries and databases around the world such as the United States Library of Congress and the New York State Library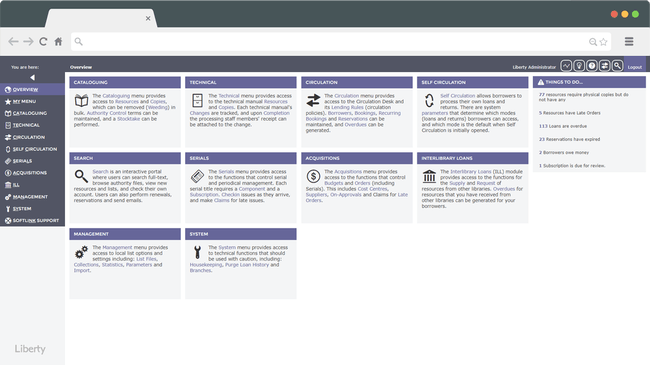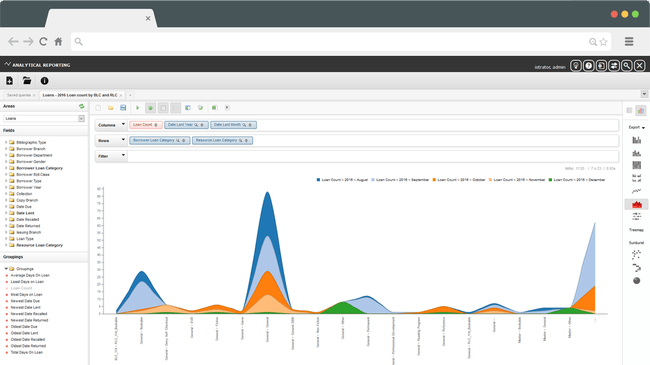 Powerful Analytical Reporting
Liberty can help you report on all aspects of your library's activity:
View dynamic real-time graphical reports of your library data and statistics
Drag and drop elements to produce any reports you need
Save and share report search queries with your colleagues
Export reports to Excel and PDF
Use advanced filtering to include only the information you need
Comprehensive Reporting
Create custom, ad-hoc detailed and summary reports to focus on the areas important to you. Schedule regular reports to run automatically and have them sent directly to your inbox
Complete Asset Management
Manage any type of resource your library provides, whether physical, virtual or electronic. Keep track of equipment or any other assets belonging to your organization
Cloud Hosting
Eliminate the stress of installation and upgrades by utilizing Softlink's reliable and secure certified T4 data centers in regions all over the USA in states such as Ohio, Oregon and Virginia. If you prefer to keep your library management system installation in-house, locally hosted setups are also supported
Integration Options
Use our APIs to integrate with external platforms such as Microsoft Sharepoint, or expand your library's catalog by integrating with eBook providers such as OverDrive. Design preset searches with graphics and insert them into other web pages to bring your users to your library catalog.   Use our Mobile App for staff tasks such as inventory, weeding and cover image updates
Free Training
Softlink conducts several free training sessions throughout the year, including face to face group training and online sessions. Access free user group meetings and webinars, regardless of your location.
First Class Support
Access to a support team comprised of qualified professionals based in Los Angeles and Boston who understand both library processes and related technologies. Expert support is available via online chat, Email or phone
Powerful flexible search options for finding your valuable knowledge, including faceted search and predictive text for quick retrieval of relevant information
Provide relevant information for your users with a home page targeting their interests, including featured lists, carousels, sliders, videos and more
Logged-in users can access information such as current and previous loans, bookings, alert messages, interests, current awareness and previously saved searches
Full Text Search
Search across all the fields within your catalog, including any information contained in your attached Word and PDF documents
Liberty Link App
Access Liberty on your cellphone! The Liberty Link mobile app is available for both Android and iOS to ensure your users have access to the information they need on-the-go
Customizable Interface
Easily change colors and text to match your organization's look and feel.   Change the layout and content of any page including changing terms used and fields displayed
RFID and Self Checkout
Streamline your loans and returns processes with Liberty's RFID and self-checkout support
Configurable User Roles
Design your own user roles and fine-tune security privileges to match user needs. Liberty has highly configurable role-based access levels, allowing records to be restricted to a set of users.
Single Sign-on
Support for Single Sign-on (SSO) means secure and convenient access to the library catalog without the need to enter login credentials every time you start your web browser