Softlink IC Blog
Subscribe to our regular updates
Who Has the Best Library Homepage? Here Are Our Top Picks!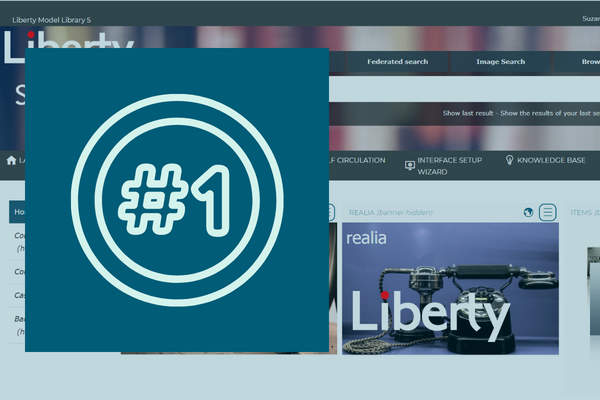 This is a blog with a twist. We know Liberty is packed full of fantastic features and functionality. One of its best features is the flexible and customizable homepage which means you can create a homepage or OPAC (online public access catalog) as unique as your organization.
In this blog we'll be looking at some of the fantastic homepages our customers have crafted. All of the customizations in this blog are possible with the activation of the alternate homepage in Liberty (Parameter 4230).
And remember, if you need help with customizing your Liberty Home page, or want more ideas on how to increase your Library's profile, just click here to contact us. We are here to help. OK, let's get started!
Japan Foundation, Sydney
The Japan Foundation, Sydney is the Australian arm of The Japan Foundation, a non-profit cultural organization which was established by the Japanese government to promote cultural and intellectual exchange between Japan and other nations.
They have created a unique library homepage to suit the delivery of some resources by language proficiency level. We thought this was a very clever way to create an inviting and user-friendly interface. A public facing preview of their homepage is available via this link.
Librarian Hirofumi Yada said "After providing our corporate colors to Softlink IC, the color scheme of our library OPAC was set from the installation. I would say it was easy enough to customize our OPAC homepage by myself via Liberty's user interface."
He further added, "I soon found it rewarding to curate our collection into multiple information boxes on our OPAC home page because these boxes that contain preselected titles enable our users to find useful resources for their specific information needs quickly."
"All they had to do was select a title or two from there. Some additional refinements to the records of relevant titles were needed (for example: streamlining subject headings, adding cover images, and registering these resource records to relevant "Lists") to make the selections of resources in our information boxes more pertinent and presentable." Hirofumi Yada said. A preview of their homepage is below.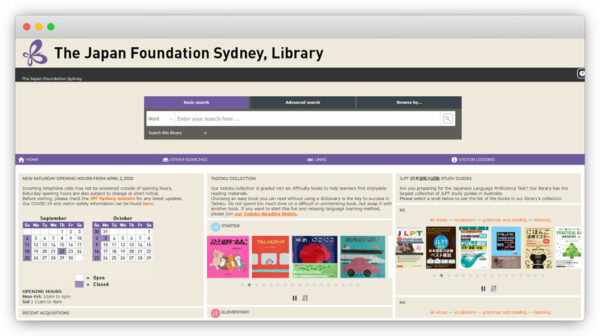 The Leaders Institute
The Leaders Institute, based in Brisbane and Sydney, Australia is a tertiary education provider which aims to deliver higher education that creates real world professional leaders who are responsible, socially aware and positive contributing citizens on a global level.
The library team chose to install Liberty as their integrated library management system (ILMS) and have created a homepage which is stylish and sleek.
Librarian, Jennifer Williams said "When we set out to design our OPAC homepage, the colors we chose came from the Leaders Institute main website. I have changed the information boxes around (several times) and changed the information in each. I have also set the carousel to show items of a particular subject area." You can see a sample of their homepage below.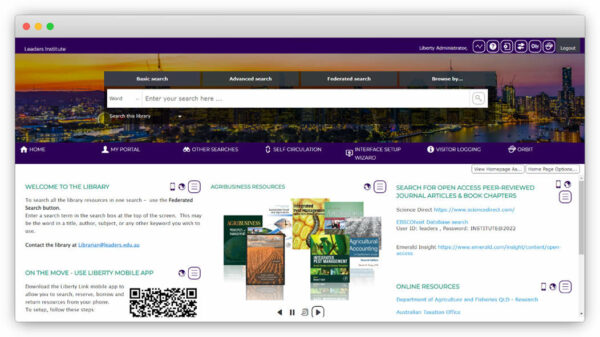 Janet Clarke Hall Library
Janet Clarke Hall (JCH) is a residential college of the University of Melbourne in Australia. The college is associated with the Anglican Province of Victoria and was the first university college in Australia to admit women.
The library is set up to support students in the residential college and the team uses Liberty as their ILMS. College Librarian, Cindy Derrenbacker said, "I found customizing the OPAC fairly easy after attending a webinar training session with Softlink IC's Customer Support Team."
She further added, "In fine-tuning the College's OPAC design, and in discussion with several instructional designers, I chose not to use some of our corporate colors (including red and yellow) as I understand they may be less friendly for people with vision limitations. Instead, drawing from a pattern from the Arts & Crafts movement, I chose a mostly green and blue palette. Given the ease with which one can reconfigure the OPAC design, it can be changed or updated as needed."
We think the final result is fantastic, have a look at the image below.
Some Final Thoughts
While we were lucky enough to get images and quotes from some of our customers, the nature of some businesses means we're not able to share the stories of some libraries. We did have one Library Manager from Australia who wanted to share her experience of customizing a library homepage. These comments are detailed below:
When thinking about color schemes, or changing colors, one Liberty customer, a Library Manager in Victoria, said "I appreciate the customization possible with Liberty that enabled me to add our corporate colors and also a picture in our banner."
And even better, changing colors of the information boxes in the OPAC had a lovely flow on effect – a change to the look and feel of our mobile app. As the same Library Manager said, "I recently changed the information box colors to update the colors in the Mobile app from the default. This improved the look of our mobile app. I utilised the "Customize your OPAC" webinar as a refresher and also the Liberty help notes. I may have also logged a query with the helpdesk. Once I had all the information, I was able to implement the changes and found the process to be intuitive."
With all these options and opportunities to customize your homepage, you're probably thinking about how often could (or should) you change the content? Well, we've got a wonderful Library Manager who has some thoughts, she says, "I like to keep the information boxes current so tend to monitor our homepage regularly, making a change at least monthly or when there are changes to our services or opening hours. I also like to add images that draw the eye to an information box."
She further adds, "I like to promote various aspects of our collection and services, whilst providing information that assists our borrowers. An important feature is a link to join our library and using our library resources. I change the book carousel monthly to highlight new releases, new eBooks or a particular subject area. Previously we used the book slider option. I create a reading list and use this for the slider or carousel. Both the carousel and slider create movement on the homepage and draw the eye."
Make the most of your library homepage by creating a homepage that's easy to access, easy to use and most of all engaging. We think Liberty is a fantastic ILMS, but don't just take our word for it. As a Library Manager in Australia said "Overall, the customization of Liberty allows me to change the look of our OPAC and tailor it to our library requirements."
With Liberty you have all the tools you need to give your library a high profile. Getting the most out of Liberty for your users means you and your library will become an essential service! We've got a fantastic on-demand webinar to help! It's called "Live OPAC Makeover – Take your OPAC from drab to fab!" and you can find it here.
We know customizing your homepage may not be an everyday task. If you need help on creating or customizing your own homepage, there are guides in Liberty's Help interface. You can also contact our friendly Support team here, or log into the Client Portal and use our very popular live chat option!