Softlink IC Blog
Subscribe to our regular updates
Employee Spotlight – Benjamin Grant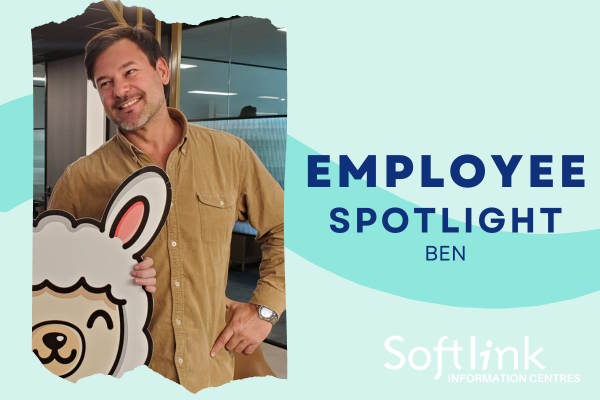 Meet Benjamin, he joined our team in 2022 as our APAC Sales Account Executive. He's fallen in love with both Liberty and illumin and spends his time showing our potential customers how great our products are.
We get to know a little bit more about Benjamin, who's based in our Australian offices in the latest of our Softlink Information Centers Employee Spotlight series.
What are the main responsibilities of your position?
I head up the Sales function for the APAC region. This involves developing new business and managing internal sales for existing clients.
My role has been very busy handing all the enquiries for special libraries, be it a large government tender for a dispersed research team served by research librarians or a bespoke legal or media firm seeking custom developed library management tools fit for purpose. I work closely to define the scope for Liberty and Illumin prospects by performing demonstrations, submitting tender responses, and defining the extended use of our services within a consultative proposal.
When did you join SoftlinkIC and what do you like most about working here?
I joined Softlink as a transition from an (over)seas change. I was working in the Asia Pacific region for the previous 5 years in education student recruitment when COVID-19 took hold. I came back to Australia and had to pivot professionally, this landed me away from my hometown Sydney to Brisbane and I joined Softlink in early 2022.
Softlink is one of those rare companies that have enjoyed a right time, right place, right people scenario. I was introduced to the Library Portfolio by the Group Head John Crook. On my first day he defined his 20 years with the company by saying "We know Software inside out" and he went on to note the people who have succeeded within our business and our parent company and further we create software market niches and serve these business segments.
I work directly with Sarah Thompson the General Manager to execute the action points and target the market segments our products serve which I find dynamic and rewarding. Many action-packed days at our Brisbane headquarters, a few tight deadlines and some fun weekly quiz hours have made the journey thus far an enjoyable one.
What is your favourite type of food? (If there's a list, even better!)
I'd say Thai food ranks at the top of the list. But in saying that I'd need to be perched on a stool at an outdoor street stall somewhere in Bangkok to savour the authentic taste. A close second would be a glass of Radikon skin contact orange wine from Friuli, Italy.
Which 4 people, alive or dead, would you love to share your favourite food with and why?
My top 3 best friends and my partner. They are as follows: an art professor, a financier, a doctor and a lawyer. I can only hold my own on the topic of art only. I learn so much every time I spend time with them, in between all the laughs that is.
If you could be anyone else for a day, who would that be and why?
Bill Callahan, he is an American singer song writer. I spend much of my past time learning his songs on guitar. His work is mostly about the stoic experience of the everyday, that resonates with me when it's in a song format.
What is one place in the world on your bucket list you most want to visit? Why?
It's a suburb just south of Brisbane called Cleveland it's one of many launch points by boat to North Stradbroke Island. I think I'll like it as it's a bit of a sister suburb to where I live, and its name is the same as the famous Cleveland 351 Ford V8 engine.