Softlink IC Blog
Subscribe to our regular updates
Demystifying Digital Collections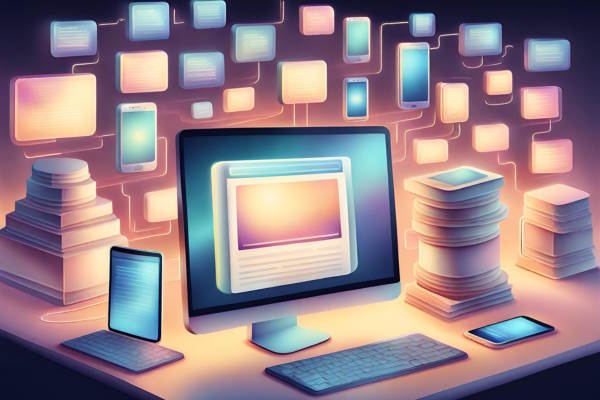 In today's digital age, digital collections have become more essential than ever. They allow us to preserve, store, and access different types of digital objects. Our recent webinar highlighted there are many types of digital collections that serve different purposes. These include digital archives, digital libraries, databases, digital publications, text corpora, and digital repositories. The focus of our webinar was on digital repositories.
What Exactly is a Digital Repository?
A digital repository is an online archive that can host a wide range of digital objects such as documents, images, videos, datasets, and more. By using a digital repository, you can safeguard your digital objects for the future, make them easily accessible to others, and even showcase your work or collections.
Digital repositories are often referred to as digital libraries, online libraries, internet libraries, or digital collections – all interchangeably. These terms emphasize various aspects of the system, such as quality, curation, or organization of the content. Examples include platforms like Project Gutenberg, Europeana, and Google Books.
What are the Two Key Types of Digital Repositories?
Open access: Open access repositories provide free access and unrestricted reuse of content, offering numerous benefits like increased visibility, collaboration opportunities, and compliance with funding agency policies. However, they do come with potential limitations such as reuse restrictions and sustainability challenges.
Institutional research: On the other hand, institutional research repositories focus on storing research outputs within an organization. They preserve and curate a wide range of materials, highlighting the institution's capabilities and attracting collaborators. However, these repositories may have limitations like limited access within institutions and fragmented content discovery.
What are the Benefits of a Digital Repository?
Below we've listed four key benefits we believe make a digital repository essential for organizations, whether you're a research institution, library, information center or an organization seeking an innovative solution for your digital collections. These benefits are:
Preservation and Access: A means for preserving and archiving your research outputs for the long term. Work remains accessible and available for future reference, even if the original publications become outdated or inaccessible.
Efficient Organization and Management: Convenient and centralized platform for organizing and managing your research outputs. Instead of scattering your work across various platforms or relying on personal websites or storage solutions, a digital repository provides a structured and easily navigable space to showcase your papers, datasets, reports, and other research objects. Saves time and effort in managing and organizing.
Collaboration and Networking: Connect and collaborate with researchers who have similar interests or are working on related topics. You can share your work, discover others' research, and engage in discussions and collaborations, fostering a sense of community and enabling knowledge exchange.
Tracking and Metrics: Some digital repositories provide usage statistics and metrics, allowing you to track the impact and reach of your research outputs. This can include the number of downloads, views, citations, and social media mentions. These metrics can be useful for tenure and promotion evaluations, grant applications, and demonstrating the broader impact of your work.
To effectively manage digital collections within a repository, it's crucial to select a robust digital collection management system. Key features to consider include:
Support for standard and custom metadata formats.
Intuitive browsing options.
Powerful search tools.
Flexible data handling capabilities.
Digitization and file conversion tools.
Batch uploading capabilities.
Mobile-optimized multimedia viewers.
Analytics dashboards.
Automation tools.
These are just a few of the features we think would be invaluable in any digital repository. Of course, there are more, some of which will be unique to your organization.
Watch our Webinar to Find Out More!
We recently hosted a webinar, Harness the Power of Digital: Unlocking Potential with Digital Repositories, in which we shared some of the essential features of a digital repository, what to consider when choosing one, and the latest technologies available to make accessing and interacting with your digital resources a breeze.
Digital collections and repositories are vital for preserving and supplying access to digital objects, and selecting a robust digital collection management system enhances organization, accessibility, and usability. If you'd like to find out more, get in touch with us here.